De Young Museum - San Francisco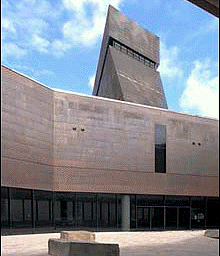 Built as a result of the Mid-Winter Exposition of 1894, the M.H. de Young Memorial Museum housed the left over objects from the exposition. The museum also showcased artifacts from the Gold Rush era and Michael de Young's personal collection. Presently undergoing renovations, it is due to reopen October 15, 2005.

QUICK FACTS:

Reopened October 15, 2005
paintings and blueprints from:
James Whistler
Georgia O'Keefe
Frank Lloyd Wright

It has been an vital part of the artistic cultural in this city. For over 100 years it has been a highly treasured destination for millions of visitors. The new de Young Museum has been transformed into a state-of-the-art facility that incorporates art, architecture and the natural landscape in one multi-faceted destination. The new de Young will bestow upon San Francisco an innovative museum to showcase the priceless collections of American art from the 17th through the 20th centuries, and art of the native Americas, Africa, and the Pacific.