Chinatown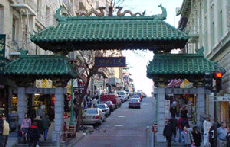 A small walk past Union Square is the famous San Francisco Chinatown. Upon entering this neighborhood through its striking Dragon Gate, you at once feel like you've just stepped off a plane in China. Chinatown is housed within 18 square blocks, and is home to one of the largest Chinese communities in North America. It is also one of the most visited areas in the city. The best way to experience it is to stroll through its neighborhood, visit its souvenir shops, herbalists and then top it off with a stop at the Golden Gate Fortune Cookie, where you can see how the cookies are made.

QUICK FACTS:

Golden Gate Fortune Cookie
Chinese Cultural Center

If you walk across the stone bridge that connects Portsmouth Square to Kearny Street, make sure to visit the Chinese Cultural Center in the Holiday Inn. They sponsor two wonderful walking tours of Chinatown: the Heritage Walk and a Culinary Lunch Walk. Chinatown is by far one of the best shopping, eating and cultural experiences you can have in San Francisco.