The Ferry Building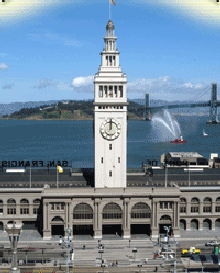 The Ferry Building, one of San Franciscoís most famous landmarks, stands on the original site of the 1875 wooden Ferry House. The building that presently exists was originally built in the late 1800ís. Construction commenced in 1896 and the building opened in 1898.

It was been an icon to San Franciscans and itís tourists for over a century. The clock tower was built to serve as a welcome reception to the city. The clock tower stands 240 feet tall, and was modeled after the 12th century bell tower of the Seville Cathedral in Spain.

Today it is known for its gourmet food stores and restaurants. San Franciscans love to shop for local, organic and natural grown foods. Four times a week, located outside of the building is the Ferry Plaza Farmerís Market where you too can find the same gourmet produce and food that is grown locally and organically. It has been said that you can eat an entire meal for free by trying all the samples that are handed out by the local farmers and cooks.

The Ferry Building is located at the foot of Market Street. For upscale shopping, more restaurants and a movieplex, visit the Embarcadero Center just blocks away from the Ferry Building.
During your San Francisco tour aboard San Francisco Comprehensive Tours we will take to this location stop, walk around and give you ample time to take pictures.