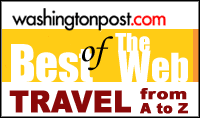 CAMBRIDGE, MA, March 2, 2007. On February 4, Sunday Edition, The Washington Post featured GotoBus.com, along with Hotels.com, Kayak.com, Mapquest.com and TripAdvisor.com, as the best travel websites.

In particular, GotoBus.com was named the best website in the "Motorcoaches" category, topping grayline.com, greyhound.com and trailways.com. The Washington Post points out that online travel bookings hit $85 billion last year and this year are expected to account for more than half of all U.S. travel bookings.

GotoBus.com was officially launched at the end of January 2006, replacing IvyMedia.com, to better reflect the core business of the company: selling bus tickets and bus tours online. IvyMedia.com started to market and book bus tickets and bus tours since 2002 and has grown quickly to cover most service areas in the US and Canada.

Jimmy Chen, President of IvyMedia Corporation/GotoBus.com, is pleased with the recognition from this major US news organization: "Despite a minor glitch discovered by The Washington Post, they rank GotoBus.com as the best website in the 'Motorcoaches' category. Encouraged with this recognition, we will continue to improve our services to enhance value to our customers and travel suppliers."

GotoBus.com is the leading online ticketing company for bus-related travel services, working with many shuttle bus operators including, but not limited to, most Chinatown Bus lines and airport shuttle services in major US cities. GotoBus also actively markets bus tours and vacation packages for many discount tour operators as well as name brand and popular travel operators such as Gray Lines in major US and Canada cities, Starline tours and Historic tours. For example, GotoBus.com sells a shuttle bus ticket from State College, PA to New York at $35; New York to Washington DC 2-Day tour (including 1-night hotel accomodation based on double occurpancy) at $85.

To find out more information about the top travel websites in various categories, please visit: Original Washington Post Article .

About GotoBus

GotoBus is the leading online marketplace for bus tickets and tours. The GotoBus online booking system is similar to those used by major airlines, and makes it easy for travelers to quickly compare schedules, prices, and pickup/drop-off locations for over 100 bus companies throughout the United States and Canada. GotoBus.com is the fastest growing gateway for bus travel on the Internet today.

For more information contact: marketing at gotobus dot com or 1-617-354-2101.